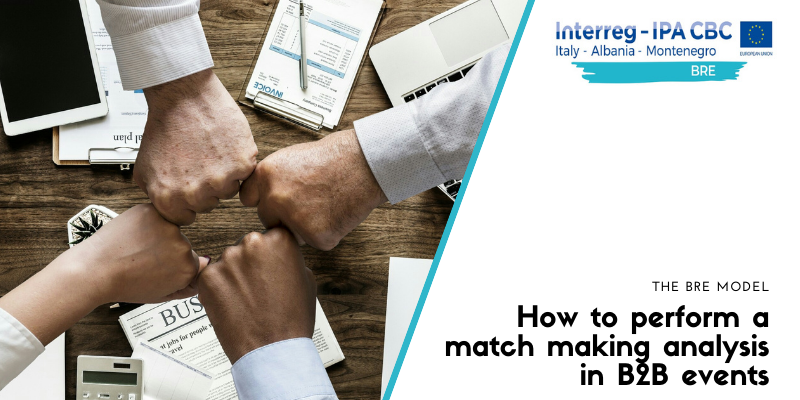 How to perform a match making analysis in B2B events: the BRE model
Overview
The BRE project is a paramount opportunity not only to spread knowledge about the Business Register management and to fill databases in with companies on the imitation of the Italian model. It's also a potential moment of match between demand and offer, through B2B events involving companies from the three Countries involved: Albania, Montenegro and Italy. But after involvement, it comes to match them. How can a public or private subject operate this match?
Definition of business matchmaking
Business matchmaking is a method to identify and connect (match) companies with common business interests, complementary services, expertise, technologies or business strengths. The goal is to create cooperative connections and realize business opportunities that mutually benefit both parties. It is the most efficient way to find, meet, and talk to new collaboration partners. Participating people (businesses) have to state information about what it is they are searching for, or what they have to offer others. The b2b matchmaking is based on that information. The system can identify which needs are met by which offers, and then connect those people. The more precise the collected information from everyone, the better the outcome of the business matchmaking.
When is it used?
Business matchmaking is commonly used for events where networking either is the main item on the agenda, or just a side part of it. Common examples are:
Buyer-seller events
Research and innovation events
Regional development events
Start-up events
Additionally, bigger occasions like conferences, congresses, exhibitions, fairs, etc., use the benefits of business matchmaking as a more structured and efficient form of networking.
How does b2b matchmaking work?
If you break down how the business matchmaking process works, you end up with four steps:
Identification of potential target groups
Registration and profile set-up
Browse and matching profiles
Pre-arrange and communicate
Meetings
Following, we will describe each step and their connection in greater detail.
1. Identification of potential target groups
Before starting a B2B, managers need to understand who will meet with whom. It's a preliminary definition of target groups, which comes from a clear knowledge of the two or more business environments. In BRE, it's about Italy, Albania and Montenegro. Organizers must sketch some possible cooperation scenarios, adjust them with the other partners and write down a possible framework of cooperation. The Chamber of Commerce of Bari, for instance, proposed the following match structure in BRE kick off meeting. This was the core of the following activities.
After the fine tuning, the categories to be involved in Albania and Montenegro become like these:
FOOD: retailers (stores/shops), intermediaries (distributors/agents/importers), great distribution companies (shopping malls, chain of food stores, hotels, restaurants, cafes), communication companies (food magazines, bloggers, influencers)
FASHION: producers (thirdy party manufacturers), retailers (stores/shops), intermediaries (distributors/agents/importers), communication companies (fashion magazines, bloggers, influencers)
TOURISM: retailers (travel agencies/tour operators), tourist related associations or public bodies, communication companies (tourist magazines, bloggers, influencers)
MECHANICS or ICT: producers (thirdy party manufacturers), service providers (installers, developers, maintenance companies), retailers (stores/shops), intermediaries (distributors/agents/importers)
2. Registration & profile set-up
B2B matchmaking starts when potential participants register online by filling out the events registration form. Customized questions defined by the organizer and adapted to the topic of the event, guide participants through the set-up of their individual profile. Those participant information and cooperation profiles are the cornerstone of the business matchmaking itself. This is the form for the expression of interest built by the Chamber of Commerce of Bari for BRE B2B.
3. Browse & matching profiles
Still before the event, participants can go to work. They can identify interesting and promising contacts with whom they want to meet. The tools smart search functions allow participants a quick and easy identification of suitable (matching) profiles. Here, the matching provided by the Chamber of Commerce of Bari for BRE B2B organization. In red, tricky matches (to be discarded), in yellow difficult ones (to be probably discarder), in green the good pairings, which will become the pillar of the B2B organization.
4. Pre-arrange & communicate
Before the event, all participants will be able to write, such as request and pre-arrange meetings with each other. This saves valuable time during the event. The system will automatically assign each meeting to a numbered table on an online platform. 
5. Meetings
During the B2B event, participants on both sides of the Adriatic sea will enjoy their pre-arranged meetings. Ideally, this first meeting is the starting point for a collaboration.