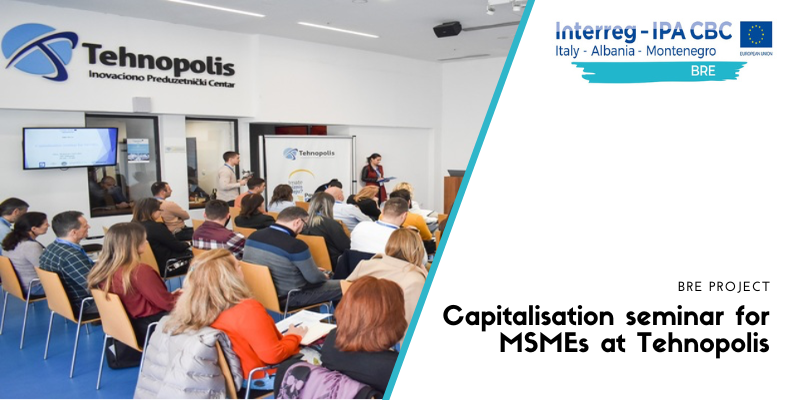 BRE project, Capitalisation seminar for MSMEs at Tehnopolis
Overview
On 14 March 2023, a Capitalisation seminar for MSMEs was organized in the premises of the Innovation and Entrepreneurship Center Tehnopolis (Montenegro), as part of the capitalisation of results of the BRE project, co-financed by the Interreg IPA CBC Italy-Albania-Montenegro Programme 2014/2020.
The seminar was attended by project partners and experts who, through a series of presentations, contributed to a better understanding of the BRE Platform, and recognition of its importance in order to further develop the business community in Montenegro and connect MSMEs with the international market. On this occasion, the representative of the Chamber of Commerce presented the database of all companies in Montenegro, which was created through the BRE project. In order to provide further support the process of digital transformation, the "Moja eKomora" platform was created, which, in addition to improving the efficiency and effectiveness of the work of the institution itself within internal processes, through the savings of various resources will have a strong multiplier effect on the business operations of subjects, through a series of services that will save their resources, improving the level of digital literacy of employees in the economy.
In addition to the above, the participants had the opportunity to get acquainted with the activities implemented by the Ministry of Economic Development and Tourism and the Ministry of European Affairs of Montenegro in order to strengthen the business community in Montenegro. Additionally to that, representaties of ICT Cortex, Montenegrin employers federation, and Ministry of Economic Development and Tourism pointed out the importance of cross-border market cooperation, and presented the support their institutions provide to MSMEs in strategic positioning of entereprises at the regional and global level, all with the aim of internationalization and strengthening the export potential of MSMEs.
Also, during the Capitalisation seminar the business support that IEC Tehnopolis provides to MSMEs, as well as all infrastructure segments of IEC Tehnopolis, which are important for the further development of the business community were presented to the participants.
At the very end, the representative of the Chamber of Commerce introduced the participants to the process of digitisation and internationalisation of the Montenegrin economy, as well as the current state of economy.